I used to workout in bukit jalil golf club for gym (treadmill and free weights), swimming and lots of sauna, until age cukup tua- cannot use facilities after 21years old. so have to venture outside. Was a nomad switching parks from Taman Komanwel, Bukit Jalil Park, Kelana Jaya, Taman Jaya, Shah Alam, Subang and even the smaller Menjalara Park until permaisuri was found by accident when a working colleague told me he was in charge of the HUKM project and informed there was a nice park in front of the hospital (since i liked exercising). That was 2001 when i found Permaisuri. It was the perfect place for me. Not too far from home, has a good jogging track and a swimming pool. So, running took on a more serious tone after "settling down" in PMR, a great change for a nomad. O ya, this nomad was never in a proper running attire. Started off in a pair of Airwalk shoes, bermuda shorts and an oversized t-shirt, you get the idea....

Was still new to the running scene. didn't know anyone. After 2nd run in seremban half, kelvin invited me to join pacesetters. from there, everything was history...But why do i join PACM? I guess it's not so much of the club. when I run, i meet new people and new people form new group of friends who like running. PACM is the club that embodies many other groups of people from all walks of life, who like running. So, it's only natural to be in this club to have this sort of network of friends with the same hobby. Just like how PM was formed, i guess...;) I plan to run at least 3 marathons a year and to cover at least 50 marathons by the age of 40. And to do the Ironman by the age of 30.

My ranking of sports that i like: 1. Biathlon (Swim-Run) 2. Triathlon Olympic Distance(Swim-Bike-Run), if only i liked cycling it'd been first in the list. 3. Half Marathon 4. Full Marathon 5. 10km runs - can you believe I'd choose a full marathon over a 10km run?! because it's bloody competitive! Sporting Achievement 1. Won 2 silver, 3 bronze medals for inter-campus swimming competition in the Varsity Games 2. Won 1 silver, 1 bronze of Age-group swimming competition by MPPJ 3. Best 10km time = 43minutes (if cukup 10km) 4. Best half marathon time = 1hr 42mins 5. Best Full Marathon time= 4 hrs 15mins. Other favourite past time : Quiet time by myself, reading, impulse writing (only with inspiration), surfing internet and looking for nice food.

Other details of myself other than sports:
Occupation : Labourer doing highways Marital status: Single, but already have to manage a few babies like Kelvin Ng (haha!) Education level: Up to Sekolah Pondok, Ulu Kelang Next ambition: Ah Long of Bukit Beruntung Favourite food: Almost everything except PowerBar! Some other stupid things I do: Writing "details of myself other than sports".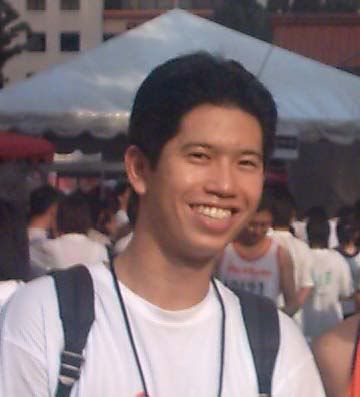 brought 2u by pm38