courtesy from Haris, Pm13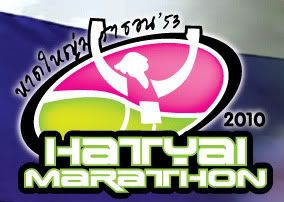 Date: 30 May 2010
Venue: Jiranakorn Stadium, Hatyai
Distance: 42km, 13km and 4km
Website:
www.hatyairunner.com
If you refer to the
map
, this event located in Hadyai town. Probably 3km from Lee Garden Plaza - the happening place for shopping. President Hotel is walking distance to starting line. Really suitable for muslim runners which located at Muslim Road. Majority, there are a lot muslim/halal stalls around to enjoy your meal or dinner and also a mosque.
Entry Form :
click here lah!
For domestic running event, kindly click here lah!
http://pmone.multiply.com/calendar