Almost Unreal
Finally i beat CB Leow!
CB Leow is Klang PACM most popular runner. Even my Gege oso very respect him triple kau lat. So i'm very jealous lah, i wanna beat him again. My last trumph over CB Leow was Shah Alam 10km Run 2003, after dat i always smell his ass. Sometimes ass oso kenot see at all :p

Pressure der Key of Success
I should had thanks to CB Leow, he is my powergel. Without him, i couldnt done so well n break my record too. N never forgotten, Justin Lee der most improve runners in der pacemakers gang, he give me lots of pressure too. In der front
view, i had to watch out CB Leow. N in der rear view i had to watch out Justin Lee. Can u handle my pressure? Damn! i pangsai 3 times b4 der race :p

Where is all der Sayur?
From start until finish, i only manage to potong 2 sayur sahaja. Can u believe dat? Damn! dis ppl are fast bullet! I was so close to beat Don Khor, but i let it slip away. Was running wit S.Devamani too at der last 4km, yet i slip it again in der final 1km. Kanasai!

Public Enermy
1 more enermy left to close shop, who dat? So malu to tell u all lah. Wait till i beat dat fella 1st lah, today dat fella no open shop lah.

Conclusion
I rested 2 days b4 der event, i guess resting really important hor. So sad for my friend PM19, he pancit really kau kau lat. Der last 500m to go i slow down oredi, bcoz i know i can achives 1hr 03m liao. Coz dat is my main target time, 1hr 02m? Dat wan i reserve for next year 2006 lah :p

pm1 split time for der 15km
1km - 4m 05.02s
2km - 3m 52.09s > 07m 57.11s
3km - 4m 13.67s > 12m 10.78s
4km - 4m 15.22s > 16m 26.00s
5km - 4m 22.81s > 20m 48.81s
6km - 4m 11.45s > 25m 00.26s
7km - 4m 38.56s > 29m 38.82s
8km - 4m 45.43s > 34m 24.25s
9km - 4m 14.92s > 38m 39.17s
10k - 4m 23.12s > 43m 02.29s
11k - 8m 38.10s > 51m 40.39s
13k - 4m 22.75s > 56m 03.14s
14k - 4m 04.62s > 60m 00.07s
15k - 2m 56.60s > 60m 03.04s

Past Result for der 15km Run:
2003 - 1hr 05m 52s [16th]

2004 - 1hr 04m 29s [18th]
2005 - 1hr 03m 04s [19th]
L-R: William Chan, Ng Wei Hann, Wong Chee Kit n Cherie Fong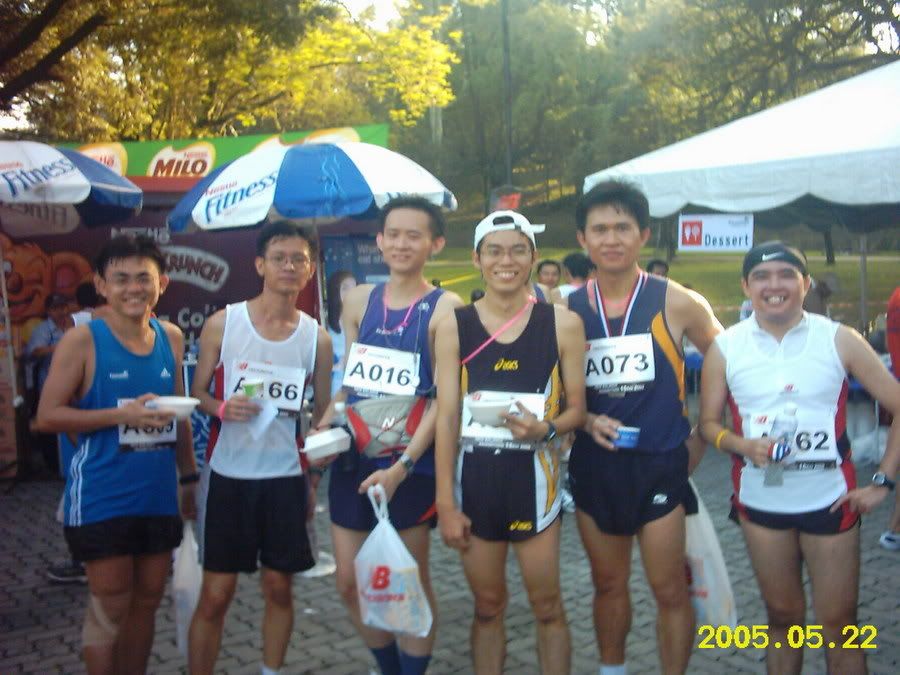 L-R: PM8, PM17, PM23, PM1, Penguin 11 n PM25
L-R: PM26, PM1, PM2, PM3, PM15 n PM17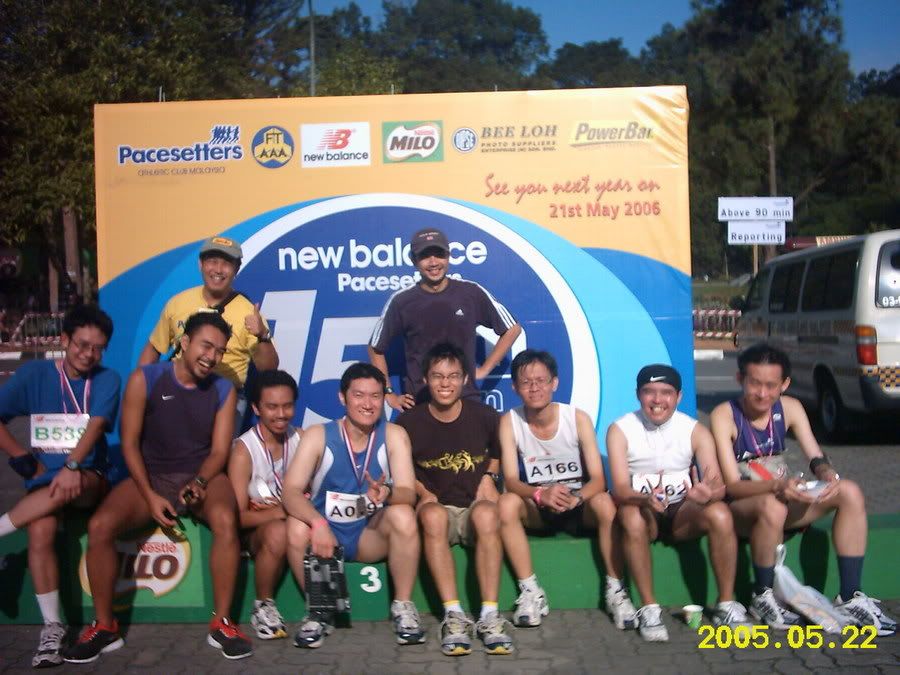 L-R: Rohaizad, PM3, PM26, PM20, PM19 (center top), PM1, PM17, PM25 n PM23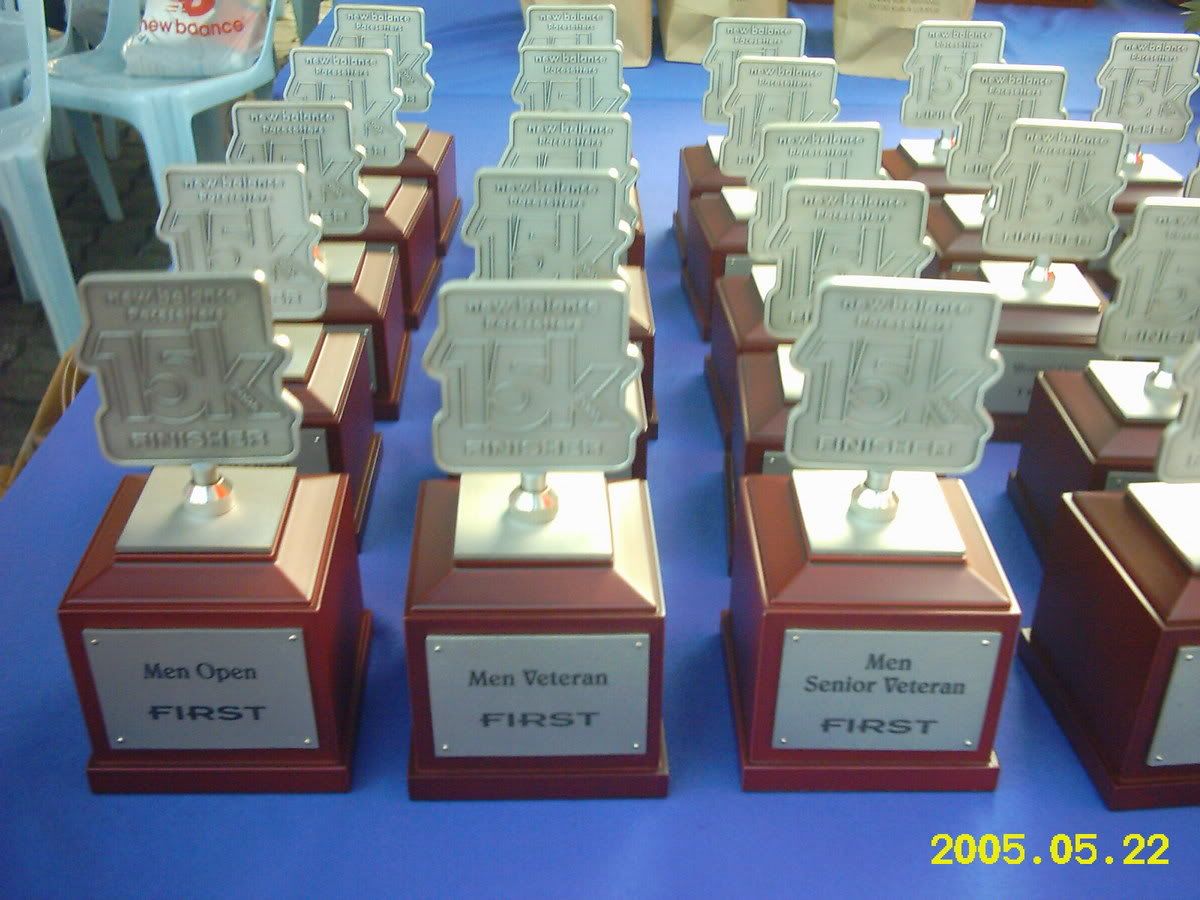 mmmmm... beautiful trophys....
brought 2u by pm1